People are drawn to sports for a number of reasons, whether they participate, coach, or spectate. The drama of athletic competition can be difficult to resist as it stirs our emotions even when we have no obvious connection with the teams or players involved. Whether we admit it or not, we often cannot help feeling some degree of admiration toward the Serena Williamses, Tom Bradys, and other seemingly perennial champions who, at least for a time, master their craft.
If this sounds like a hall of fame moment, well, it's no accident. This week, we are looking at several sports halls of fame where visitors can immerse themselves in their athletic endeavors of choice while building their flight hours and visiting new airports.
Our list leans toward sporting pursuits that are mainstream in the U.S. However, many sports with smaller though no less dedicated followings also have halls of fame worth visiting. These include lacrosse (Sparks, Maryland), field hockey (Collegeville, Pennsylvania), surfing (Huntington Beach, California), fly fishing (Livingston Manor, New York), archery (Springfield, Missouri), and many more. Indeed, there are halls of fame representing most sports, and there is almost always an airport nearby.
As you peruse the destinations below, consider branching out to explore shrines of sports you have not played or followed. Then start flight-planning.
National Baseball Hall of Fame and Museum
Cooperstown, New York
Cooperstown-Westville Airport (K23)
If you are not a baseball fan when you get to Cooperstown, the stories told there might turn you into one by the time you leave. That includes the story of how the hall came to be, with the proclamation that Abner Doubleday, a decorated Union Army officer, had invented baseball in 1839 in Cooperstown. At the time it stuck, but can you imagine the court battles that would ensue today?
Pro Football Hall of Fame
Canton, Ohio
Akron-Canton Regional Airport (KCAK)
In Canton, they are counting the days to Enshrinement Week, which runs from August 4 to 7. In addition to the latest class of inductees, the celebration includes more than 130 hall of famers who return each year to welcome the newcomers. If you want to truly take in the history of the game, the growth of its popularity, and the evolution of its equipment, getting there any other time of the year might be a better choice.

Naismith Memorial Basketball Hall of Fame
Springfield, Massachusetts
Westfield-Barnes Regional Airport (KBAF)
There are so many stories in this place, like the one about Glenn Roberts, who revolutionized the game and racked up unbelievable scores with a new style of putting the ball through the hoop. We are not talking about the dunk. This was the 1930s and the fantastic new move was the jump shot. For a while, nobody seemed able to defend against it. Basketball may be fast, fluid, and high-flying today, but a visit to Springfield reveals its humble, clunky beginnings.
International Tennis Hall of Fame
Newport, Rhode Island
Newport State Airport (KUUU)
Enshrinement weekend is July 15 to 17. You can also delve into the past through exhibits and the museum's Information Research Center. Find out more about the evolution of grass, clay, and hard court surfaces and how laminated wooden racquets gave way to metal and composite materials. When, exactly, did racquets with oversize heads come into play? It's all there, and you'll be in Newport, which has always been a pretty nice place to visit.
NASCAR Hall of Fame
Charlotte, North Carolina
Charlotte-Douglas International Airport (KCLT)
Charlotte glistens with a sheen of modernity and so does the shrine of American stock car racing. However, the hall of fame and museum will happily take you back to the sport's rough-and-tumble beginnings. By now, most people probably know about stock car racing's connection to illegal moonshine, but it is also fascinating to see how the sport changed with the advent of super speedways, hand-built aerodynamic cars, and national corporate sponsorship.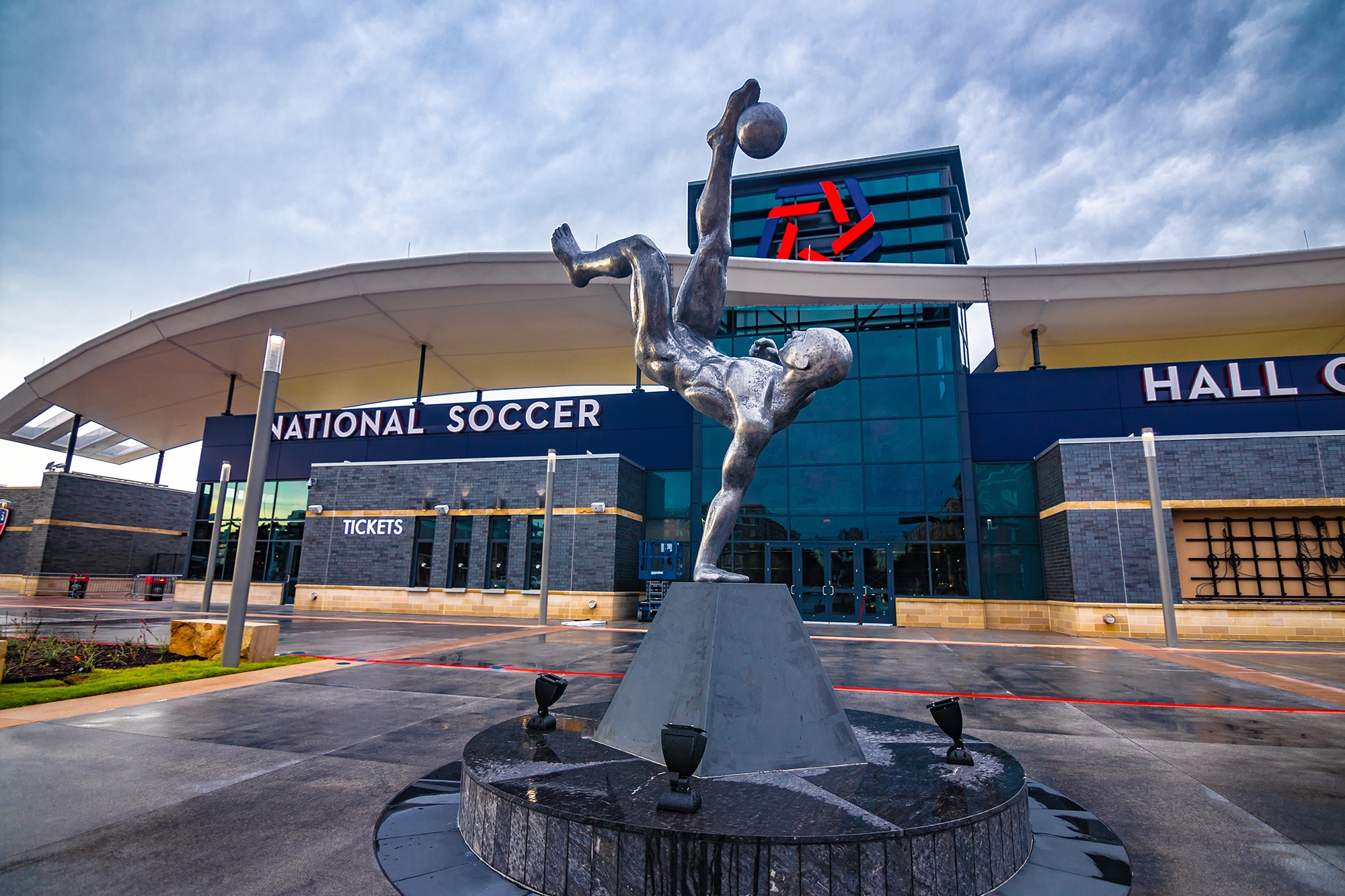 National Soccer Hall of Fame
Frisco, Texas
Aero Country Airport (T31)
As mainstream sports go, soccer is still new to the U.S., and its hall of fame has an up-to-date feel with lots of interactive, digital exhibits. Visitors can test their shooting, heading, and other soccer skills in a virtual reality experience that puts them on the pitch in the middle of the action. You can also learn more about the current champions of the men's and women's games and dig into interesting facts about the sports history and landmark players. You can even design, create, and take home your own soccer keepsakes.